We invite you to record your voice reel in the relaxed setting of Sans Walk Spoken Word, a high-spec studio in Clerkenwell, London EC1.
The studio has extensive experience in recording audiobooks and radio productions with all the well-known voice-over artists in the industry, and
you will receive the same first-class service. You will be coached to give
your best possible performance by Tamsin Collison who is a radio and audiobook producer, and Radio Drama Tutor/Director at Mountview
Academy of Theatre Arts.
We offer two packages depending on whether you require consultation or not: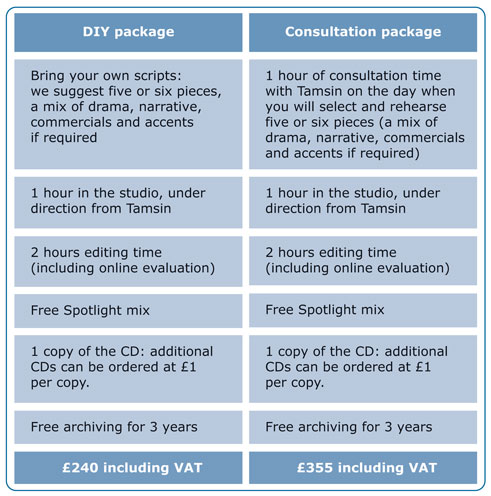 Student discounts are available.
For your convenience we have arranged that you can get a headshot photo taken at the same time as your voice reel if required:
- Each session: 20–30 mins
- Black and white images will be converted from colour images (so that the colour images are always available if required)
- 20 images (all head and shoulder shots but varying facial expressions)
- One costume change included (we suggest a shirt, blouse, t-shirt or polo shirt in neutral grey or black)
- Images provided on disc
- Prints can be supplied, charged at £2.50 per 10x8 print.
Cost: £125 (including VAT)
How to book
Call us on 020 7324 0123 or email voices@sanswalk.co.uk